Our ideas about leadership are refreshingly simple; you lead by example, and from the front. Inspire everyone you meet, empower all around you and together generate tangible business success.
Welcome to
Hunter Douglas
We are a 100-year-young, global, publicly listed, family business, professionally managed by entrepreneurial managers who consider and run our business as their own.
Hunter Douglas attracts and retains the brightest and best people – practical, realistic, results oriented self-starters to lead our business.
Our business is a highly decentralised global federation of small and medium sized companies manufacturing and marketing similar products.
We think globally and operate locally.
We achieve industry leadership with innovative proprietary products, marketed with creative programmes and strong brands.
Our Guiding Principle is "Business is People"
23,000 employees in more than 100 countries worldwide working together in the spirit of collaboration has kept us at the forefront of innovation in the home and office since 1946.
People are the key to our business; Each managing autonomous operations with "minimum interference and maximum accountability".
Developing our proprietary products and production processes and growing our business within our entrepreneurial environment.
Our success is due to the passion, expertise, and commitment of our people – open minded self-starters who thrive in a culture that encourages individual contribution.
It's who we are – Hunter Douglas.
Aad Kuiper
President & CEO
European Operations
"ITS THE TALENT, EXPERIENCE AND PASSION OF OUR PEOPLE THAT FUELS OUR BUSINESS".
Innovation at Hunter Douglas is created by our talented, multicultural employees who have built our business with revolutionary products and services that lead the market.
We are proud of our heritage and the values that guide our thinking and everyday actions. Our culture actively encourages everyone to grow their skills and entrepreneurial leadership to develop their careers, and our business.
Across our business we pride ourselves on driving innovation and operational excellence to deliver outstanding products and services that add value to our longstanding customers. This dedication has enabled Hunter Douglas to become the world market leader in award winning window treatments and innovative architectural products.
At Hunter Douglas all our products start with great design. Light control – energy efficiency and the convenience of smart motorisation are just some of the features that both our products deliver. Every day hundreds of Hunter Douglas people collaborate to develop new products and solutions that harness natural light and reduce energy use. From automated sun control systems to intelligent facades and smart technology for the home, we're passionate about designing products that make a difference in our customers' homes and offices.
Hunter Douglas has a long track record of creating value for our customers with proprietary products, world class training and creative marketing programmes that help our customers business grown and flourish. We believe our future looks bright as we continue to grow our business with a strong community of employees, customers and business partners innovating new products and services keeping us at the forefront of the market.
In the end it's the talent and passion of all our people that make us who we are: Hunter Douglas.
Aad Kuiper
Ron Kass
President & CEO
North America Operations
"AT HUNTER DOUGLAS, GREAT DESIGN DRIVES OUR THINKING."
For 70 years, the Hunter Douglas development of award-winning, proprietary innovations has been driven by a single philosophy – – that great products are rooted in great design.
Merging form and function, our products become essential ingredients in creating beautiful homes.  This design commitment also leads to window treatments that do more than just cover windows.  Light control, privacy, energy efficiency and UV protection are just some of the benefits we build into our products to make everyday living more comfortable and enjoyable.  With exciting advances in smart home technologies, our motorized products also help window treatments pioneer exciting new roles within connected home lifestyles.
The same marriage of form and function drives innovations within our Architectural businesses.  Managing light, energy, and sound in unique, beautiful and sustainable ways are at the core of our commercial ceiling, wall and facade products, allowing architects and designers maximum flexibility in all their creative endeavors. Underlying all our successes is a team of extremely talented and dedicated employees who work together to deliver the best in products, programs and services. Open-minded, curious and eager to innovate, our people are constantly devising new and improved ways of adding value for our consumers and dealer partners.
Hunter Douglas and its employees are also dedicated to improving the communities in which we live, work and do business.  For over 25 years we have partnered with Habitat for Humanity, bringing Habitat homes to life via the donation of over 400,000 window coverings to-date and countless hours of 'sweat equity' invested by our employees.  Hunter Douglas has also contributed millions of dollars toward the relief of those affected by natural disasters, and we continue to support a wide array of other worthy organizations at both the national and local levels.
As we look to the future, we're excited by the possibilities that await us and we are committed to continuing our heritage of great design innovation and superior customer service.
Ron Kass
G.C. Neoh
President & Chief Executive Officer
Asian Operations


"Trust is at the core of all relationships."
At Hunter Douglas we understand the importance of trust, and do everything in our power to earn and maintain it with our customers. Whether through our window covering brands which have been providing homeowners with beautiful, sustainable design for decades, or our architectural products, which can be seen in many of Asia's newest and most innovative buildings, Hunter Douglas is a trusted partner in the Asian architecture and design world.
Innovation is of the utmost importance in Hunter Douglas Asia where we work tirelessly as a team, continuously innovating products. Finding new ways to make products better – more sustainable, more durable, easier to operate and install, more beautiful or more attention-grabbing is a passion we all share. And of course, all of this – the respect and trust we've earned, the projects and homes we are a part of, the innovative products we bring to market – is thanks to our strong team of Hunter Douglas employees.
Passionate, intelligent, driven and creative – from consumer education and dealer programs to in-store merchandising and product development, our people share ideas across our business and markets in new ways.  The Hunter Douglas strategy is to build trusted relationships with employees, customers and business partners and grow our business by offering compelling and valued products and solutions and outstanding service.
G.C. Neoh
Tony Politis
Managing Director
Hunter Douglas Australia
"Winning the hearts and minds of our customers is a critical success factor we strive to deliver on."
With the ever changing landscape of our industry the needs of our customers continues to challenge every element of our business. While product innovation remains at the core of our success, customers continue to look for more value in their business relationships, and in particular, the partnerships they develop with suppliers. Hunter Douglas Australia continues to focus heavily on becoming the supplier of choice and it's the many talented people we recruit, train and retain that helps us achieve this position.
Through teamwork, which is aligned to the customers' requirements, we continue to expand our innovative approach beyond the beautiful products we proudly bring to market. Providing innovation in our service offering and marketing programs is only possible because of the consultative environment we create allowing customers and employees the freedom to challenge the status quo which in turn creates a desire to continually improve all aspects of our business.
Australia is also very fortunate to be able to tap into the broader Hunter Douglas Group which provides us with instant access to world class R&D and the latest technological advances associated with our industry. This combined with 60 years of local knowledge enables us to deliver on the design needs and solutions necessary to meet the demands of household consumers and architects.
Tony Politis
Renato Rocha
President & Chief Executive Officer
Latin American Operations
"Beauty. Ambience. Protection. Privacy. Reliability. Yet Unique. These are the qualities our customers demand from Hunter Douglas in Latin America."
Latin American has a reputation for dynamic design innovation in the home and the office. As architects and designers push the boundaries of design. Whether enhancing light and comfort in the home, or creating an attention-grabbing ceiling or high performance sun louvers, or creating eye catching facades, Hunter Douglas works alongside as a trusted partner with products that can be found in some of world's most recognized projects.
Recruiting and keeping talented professionals is the key ingredient to Hunter Douglas's growth and success. Our company attracts people who are interested in joining a dynamic and expanding business, producing high quality products for high demanding customers.
In this geographically diverse environment and with even more diverse markets needs, we learn from each other and share those learnings quickly to benefit our customers. From Mexico to Chile to Argentina the talented people who work at Hunter Douglas have built the reputation that we've earned.
From the manufacturing factory floor to the R&D team and the corporate office, every Hunter Douglas employee brings their passion, individuality and knowledge to the table every day. At Hunter Douglas we put ideas into action.
Renato Rocha
Our
History
We have a long and inspiring history – regularly introducing exciting new developments and ground-breaking innovations – See where it all began.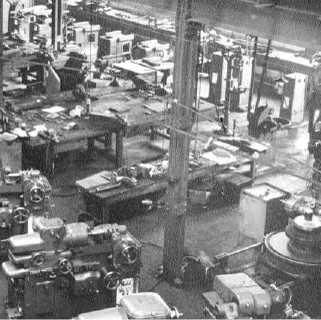 Our
People
Business is people.  At Hunter Douglas, we pride ourselves a worldwide network of experienced, intelligent, passionate and creative people.